The U.S. Elections and Latin America
October 30 at 11:00 am

-

12:30 pm

MDT
We will assess the possible impacts and prospects of the U.S. election on Latin America.
SOAS Latin America Society is pleased to announce our second political event of the year: "The U.S. Elections and Latin America". The event will take place on the 30th of October at 17:00 GMT, via Zoom.
The US election, taking place on November 3rd, will be one of the most defining political moments of this decade. As such, it has very important implications for the future of US-relations with Latin America. Hence, this event will explore the prospects that either candidate's election win would bring for the region, in which points they differ, and how Latin Americas leaders and opposition parties will look to adapt.
We will be hosting Dr. Gonzalo Sebastián Paz of Georgetown University's Centre for Latin American Studies to present his expert insight.
Sign up and follow us on social media for more information on this and similar events. Limited tickets available.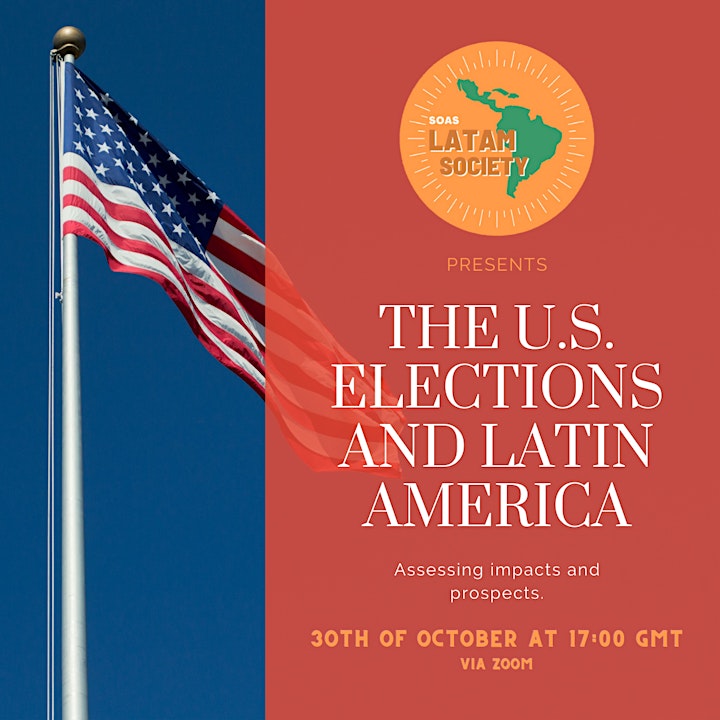 Related Events
COVID-19 Alert   Event information may be out of date due to the coronavirus (COVID-19). Please confirm details with the event organisers.